Articled first appeared on HPAC Engineering
By Ian Dempster, Senior Director of Product Innovation, Optimum Energy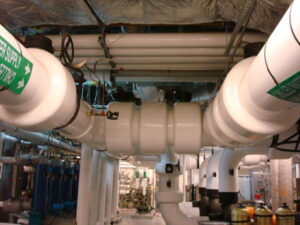 Conflicts between energy production and water availability are on the rise, even in areas not traditionally associated with water supply constraints. These two critical resources are inextricably linked. The collection, pumping, conveyance, treatment and discharge of water requires large amounts of energy. Likewise, energy production uses large amounts of water for mineral extraction and mining, fuel production, hydropower and power plant cooling. And the demand for both resources is growing.
The World Resources Institute estimates that by 2050, global economic activity will increase fivefold, the global population will increase more than 50 percent, global energy consumption will increase nearly threefold, and global manufacturing activity will increase at least threefold. Balancing sustainability against conventional mass production creates conundrums for businesses and facilities. One of the biggest is how to spread the benefits of industrialization worldwide without creating unsustainable impacts on water and other natural resources.
Buildings Are Part of the Solution
Building owners must be part of the solution. They're already feeling the pressure: rising energy costs and concerns about global warming are forcing some water man­ agers to seek ways optimize the energy efficiency of their water systems and reduce overall water use. One potentially large source of water savings that is often over­ looked is HVAC systems.
When considering building water use, people immediately think of bathrooms, kitchens and maybe irrigation, and most stop there. But studies by the California Urban Water Conservation Council and the U.S. Environmental Protection Agency show that an HVAC system may account for 28 to 48 percent of a building's water consumption, with restrooms and kitchens using 31 to 37 percent, and landscaping accounting for only 18 to 22 percent. While water consumption varies by climate and building type, that's a huge source of potential water savings.
Fortunately, cutting this waste is a happy byproduct of optimizing HVAC systems to reduce energy consumption and costs. Improving the efficiency of a building's central plant (a large part of the HVAC system), including automating components for real-time optimal performance, can cut chiller water use by thousands of gallons.
Read the full article here